In an unprecedented partnership, more than 64,000 hectares will be supported and encouraged by the company, whose premise is actions linked to sustainability
Bracell, a global leader in the production of soluble cellulose and a member of the RGE group of companies, signed a term of commitment to sponsor actions to protect more than 64 thousand hectares of native forests in partnership with Fundação Florestal. The company's initiative is in line with its business strategy, which has as one of its central objectives to reinforce the importance of good practices for the protection of biodiversity.
João Augusti, Environment and Certifications Manager at Bracell, says that a priori the contract lasts twelve months, but they are already studying an Agreement of Intent to extend it for another 5 years, and will have very specific actions considering the location and size of Conservation Units. "For the smaller units, where the main pressure is forest fires, we will support the construction and maintenance of firebreaks, in addition to fire control equipment, signposts and workshops for firefighters between neighbors and communities, and we will provide an executive project of bridge for primates to crossroads safely, helping their access to the treetops without risk of being run over or isolation between areas. For larger areas, we will offer studies and recommendations for the control of invasive species that impact local biodiversity, and remote monitoring of the fauna will also be offered, using recorders and trap cameras, contributing to the identification of species. and monitoring of environmental quality indicators of the conservation units", he says.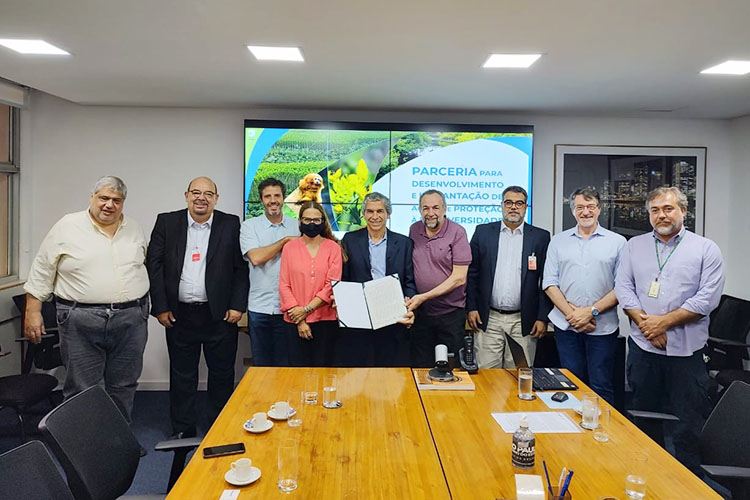 Fundação Florestal, which is linked to SIMA – Secretariat of Infrastructure and the Environment, was created for the conservation and forestry production of the State of São Paulo and aims to manage and expand production forests around the territory of the State of São Paulo. With this premise, its actions move towards supporting, promoting and creating integrated initiatives with companies such as Bracell, whose essence is environmental conservation, biodiversity protection, sustainable development, the recovery of degraded areas and the reforestation of places environmentally vulnerable, establishing partnerships with government agencies and civil society institutions.
Rodrigo Levikovicz, director of Fundação Florestal, celebrates the grandeur of the project. "This is the biggest sponsorship action we've signed since the program was created," he says. The director adds, citing the expectation that other players in the segment will follow the example of Bracell: "we hope that this partnership initiative will encourage other companies to invest in initiatives that bring significant improvements to society and the environment", he concludes.
Pedro Stefanini, senior vice president at Bracell, says he is proud of the path the company is taking, especially when it joins projects that have a positive social and environmental impact. "The partnership with Fundação Florestal is a retribution to the State of São Paulo, which has always welcomed and believed in our projects", he comments.
The more than 64 thousand hectares to be preserved are concentrated in the region of Bauru, in the interior of São Paulo, a city close to the Bracell branch, in the city of Lençóis Paulista. Areas in seven other municipalities will also receive actions from this partnership, such as Gália, Alvinlândia, Águas de Santa Bárbara, Anhembi, Capão Bonito, São Miguel Arcanjo and Sete Barras, all in the interior of São Paulo.
4 Ecological Stations will benefit (EE dos Caetetus, EE Barreiro Rico, EE Sebastião Aleixo, EE Águas de Santa Barbara); 1 Wildlife Refuge Conservation Unit (RVS Aimorés – plot II – Botanical Garden) and 2 State Parks (PE Carlos Botelho and PE Nascentes do Paranapanema).