Atlantic Forest and Cerrado areas in Bahia and in São Paulo are monitored by Bracell's Biodiversity program to Preserve Fauna and Flora
Sharing the richness of biodiversity in the North Coast and Northeastern region of Bahia. This is the purpose of photobook "Floresta sempre Viva" (Living Forest, in a free translation) that will be launched on June 9 in a virtual event to be promoted by Bracell Bahia, the week in which we celebrate the Global Environment Day. The photobook captures images of different wild animals in the remaining native vegetation within the company's areas, as well as flora images, evidencing how relevant Bracell's environment conservation initiatives are.
The photos were taken in field actions, some of them within programs towards Biodiversity Monitoring to Preserve Fauna and Flora and Fauna Sighting, undertaken by Bracell. In Bahia, the company preserves approximately 40% of all native vegetation within its areas, representing almost 61 thousand football pitches. These areas are planted in checkerboard patterns with eucalyptus trees.
The photobook has original photos taken by Gleison Rezende and Igor Macedo, Bracell's employees, by Lucas Passos, ornithologist who works in Bracell's Biodiversity Monitoring Program to Preserve Fauna and Flora and Fauna Sighting, and by photojournalist Uendel Galter. Texts are signed by journalist Scheilla Gumes.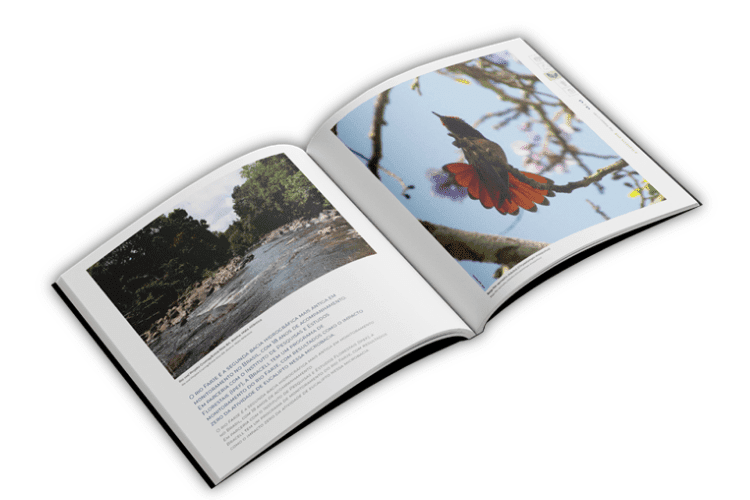 Guilherme Araújo, general director of Bracell Bahia, says, in the book's preface, that "environment conservation is part of Bracell's production process from beginning to end," and that the interaction with forests "involves respect, findings and learning from their pollination, climate regulation, CO2 stocks, water cycle maintenance, and many other things."
Online launching
The photobook will be launched on June 9, at 3 p.m., in a free event open to the public. Sabrina Branco, Bracell's Corporate, Communication and Sustainability Manager, will open the event.
After that, Guilherme Araújo, general director at Bracell Bahia, will talk about the Environment Week and how important environmental conservation is to Bracell, which is part of RGE group, which manages global natural resource-based manufacturing companies.
After that, Paulo Hartung, executive president of Indústria Brasileira de Árvores (Ibá), Clayton Lino, president of Conselho Nacional da Reserva da Biosfera da Mata Atlântica (RMBA), Wilson Andrade, executive officer of Associação Baiana das Empresas de Base Florestal (Abaf), and Meryellen Oliveira, Bracell's Environment and Certifications Coordinator, will also speak at the event. The event will also count on the participation of a representative of the Environment Office of the State of Bahia.
See the full schedule and register at https://bit.ly/floresta-sempre-viva.
Bracell
Bracell is one of the largest producers of soluble and specialty cellulose in the world, having two major operations in Brazil, in the city of Camaçari, State of Bahia, and in the city of Lençóis Paulista, State of São Paulo. In addition to its operations in Brazil, Bracell has offices in Singapore and sales offices in Asia, Europe and the United States.
About RGE
RGE Pte Ltd manages a group of natural resource-based global manufacturing companies. Their activities go from development to harvesting of sustainable resources, to the creation of several products that add value to the global market. RGE Group's commitment with sustainable development is the basis of its operations. All of our efforts are devoted to what is good for the community, good for the country, good for the climate, good for the customer, and good for us. RGE was founded in 1973 and its assets are currently worth over US$ 20 billion. With over 60,000 employees, the group has operations in Indonesia, China, Brazil, Spain, and Canada, and it is still growing to win new markets and communities. www.rgei.com