During the month of commemoration of International Women's Day, celebrated on March 8, the company reinforces the participation of women in agribusiness, a sector that was previously composed predominantly of men
One of Bracell's values is to encourage learning as a tool for continuous improvement. And during the month of commemoration of International Women's Day, celebrated on March 8, the company reinforces the participation of women in agribusiness, a sector that used to be predominantly composed of men.
One example is the forest machine operator, Alessandra de Lima Silva, who works in Santa Rita do Pardo (MS), is 43 years old and the mother of three children. She switched from salting to forestry and has been with the company since December 2022. Alessandra was one of the women who challenged themselves and applied for forest machine operator positions, took the training course offered by Bracell and, today, works in the sector. "I am in love with machines, I was raised on a farm and I always say that my body does not run blood, it runs fuel". Today, head of the family after becoming a widow in 2014, the employee found the space to develop professionally in the forestry sector. "I am very happy while driving the machine. The work helped me to cure deep depression, panic syndrome and anorexia nervosa", she adds.
Like her, other women have found an opportunity for professional growth in the planted forest sector. Maria Fernanda Vieira Rocha, 39 years old, is a Wood Technology researcher in the Research and Development sector at Bracell Bahia. Born in Minas Gerais, she graduated in Forestry Engineering and directed all her focus to work related to Wood Technology, an area predominantly dominated by men. This reflected in dedication, with years of study, to qualify and today represent this area at Bracell. The researcher points out that, every day, she has been surprised by the number of women occupying strategic positions in the company. "I want, I can and I see, here at Bracell, managers who inspire me and make me believe. I will be among the women who occupy these strategic spaces in the company", said Maria Fernanda.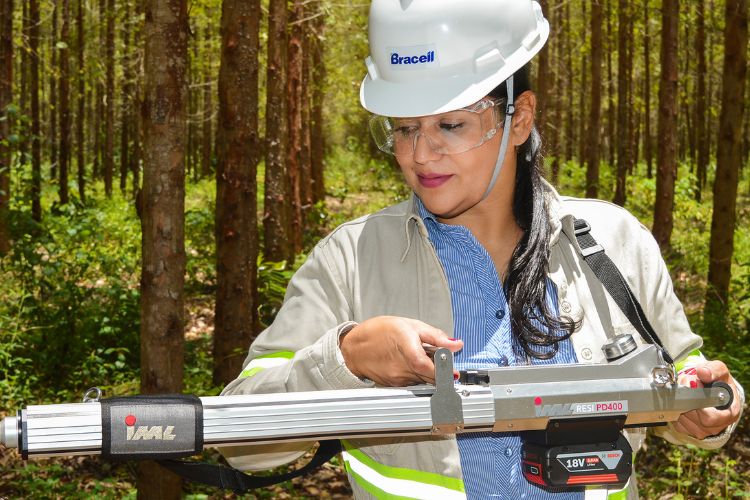 Letícia Duron Cury, 31 years old, is a Forestry Quality analyst at Bracell SP and a doctoral student. She commented that, when she joined the company, she was already doing her master's degree and always had the support of the company. The analyst also points out that acting as a scientist requires continuous learning, even more so in this dynamic world of technology and innovation. "Today, I am already doing my doctorate. This exchange of knowledge has been a very interesting experience. Several contents that I see in academics, I manage to bring to an application and, in the case of Bracell, on a large scale. It is a very rich learning experience", she shared.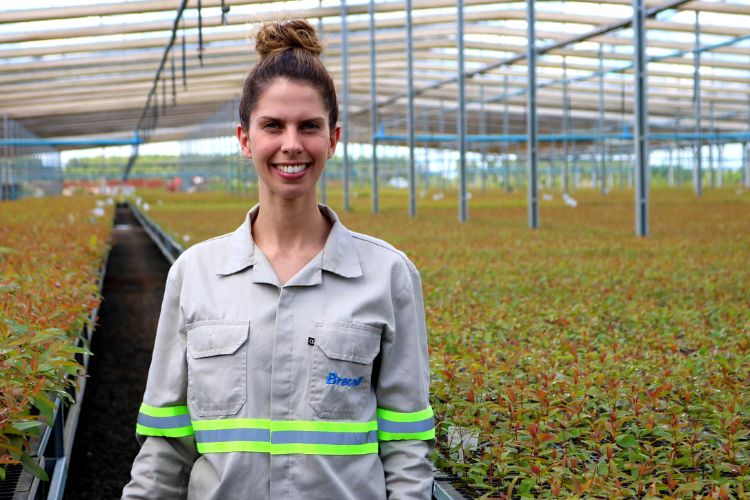 Commitments
Bracell brings guidelines for gender equity actions related to the United Nations. Among them, the company is a signatory to the UN Global Compact, and is voluntarily committed to the SDGs (Sustainable Development Goals) and to the agenda of promoting female empowerment through the WEP's (Women's Empowerment Principles). The WEP's are a set of guidelines that offer guidance to companies on how to promote gender equality in the workplace, marketplace and community.
"Adherence to these principles reinforces the company's commitment as a transforming agent of society and aims to further encourage the development of policies and initiatives that promote the empowerment of women inside and outside Bracell", says Laís Drezza, Sustainability manager at Bracell.
Bracell also recently joined RMF (Rede Mulher Florestal), an independent and pioneering organization that promotes actions for gender equality with a focus on the inclusion of women in the sector. The forest sector, historically, is occupied by men, therefore, RMF founded in 2018, started to promote gender discussion and promote respect for diversity and equal opportunities for the female public in the sector.
New opportunities
Women interested in joining the company's team can check available positions in the forestry sector on the company's website: www.bracell.com/carreiras.
There are more than 500 opportunities, such as: Earthmoving Machine Operator, Cargo Transport Driver, Road Specialist (Silviculture), Forestry Machine Operator I (Trainee), Forestry Project Engineer and Nursery Supervisor. For the positions, different levels of education, experience in the area and professional qualification are required.
Employees hired will be entitled to a series of benefits, such as profit sharing, productivity bonuses, medical and dental plans (including dependents), food vouchers, meals and chartered transportation. Anyone coming from cities other than the place where the vacancy is offered will receive financial assistance for the move, in addition to accommodation for the first 30 days.
"More and more, women have been developing in areas that were previously only occupied by men and our objective is to attract the female public to occupy these spaces. The adoption of sustainable and ethical practices guides Bracell's work, which invests in resources and processes for training and continuous improvement not only in industrial operations, but also in the routine of its employees. The company is committed to promoting the position of women through its diversity and inclusion program and we are very happy to walk in this direction and contribute to expanding the inclusion of women in the industry and in the forestry sector", says Marcela Pereira, manager of Recruitment and Selection.