The milestone was established after eight months of operation at Bracell's Pederneiras Intermodal Terminal
In the last week of April, MRS and Bracell reached the first million tons of pulp handled between the Pederneiras Intermodal Terminal (SP) and the Port of Santos. "In July 2020, MRS signed a contract with Bracell. At the time, there was no intermodal terminal built. We took on a major challenge and built a specific pulp yard and terminal from scratch in just seven months. The customer bought wagons and MRS acquired locomotives for the operation. We started this operation in September 2021 and just eight months later we have already reached one million tons transported. It is, without a doubt, an important achievement, worthy of celebration", celebrates the General Business Manager – General Cargo – of MRS Guilherme Alvisi.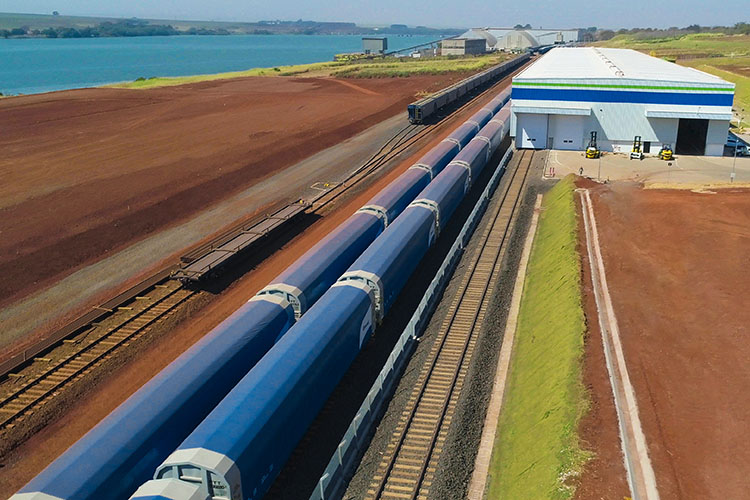 These are the results of the efforts made in several areas such as Infrastructure, Engineering, Projects, GSC, Supplies, Institutional Relations, Environment, among others. The demand was complex and required efforts on different fronts. Without the coordinated work of all teams, it would not be possible to meet the requirements of the customer, not even reach the 1-million-ton mark in such a short period.
Bracell's Head of Supply Chain Alberto Pagano celebrates the record and recognizes the effectiveness of the logistics system structured by the company, which integrates different modes. "Celebrating this milestone is important, especially as it demonstrates that the logistics system from the mill to the port is robust, sustainable and is in line with the needs of the largest and most sustainable pulp mill in the world", emphasizes Pagano.