In all, the company is investing R$ 5 billion in new operations in Lençóis Paulista 
Bracell, a global leader in the production of dissolving pulp, has just announced the start of civil works for the largest tissue mill in Latin America. The unit is being built next to Bracell's pulp mill, in Lençóis Paulista (SP). In all, the company is investing R$ 5 billion in the city, R$ 2.5 billion of which in the construction of the tissue mill, which is expected to start operating in 2024, and the other half of the amount for investment in a plant production of sodium chlorate and hydrogen peroxide, chemical components used in the pulp production process.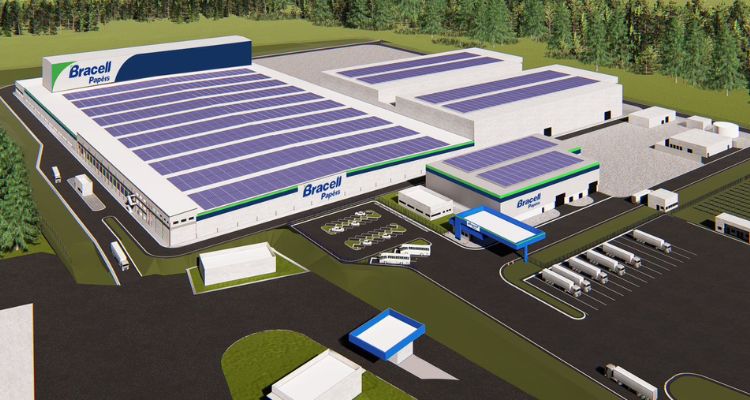 "Our new Tissue mill will be the most productive unit in Brazil. This project reinforces our commitment to invest in the country, contributing to productivity and sustainability across the business. It is a milestone that makes us very optimistic about the development prospects, as we want to add value and further expand the downstream tissue operations", says Praveen Singhavi, President of Bracell.
For Eduardo M. Aron, Tissue Business Unit Director, the expectation is that the industrial symbiosis integrates not only economic activity, but also Bracell's efforts for the environment and community well-being. "Through the exchange of raw materials, energy and water, we will reduce the impacts resulting from our industrial activity, in addition to operating costs", he says.
The new mill will have four tissue production machines, which will be converted into two products: toilet paper and paper towels. With a production capacity of 240 thousand tons per year, the mill will be one of the most modern and sustainable in the world, 100% automated and the only one in Brazil to operate completely free of fossil fuels.
In the construction phase of the project, more than 2,000 jobs are expected to be created and, for the operation, there will be 550 permanent jobs. The focus of the contract is in the interior of São Paulo, the region where it operates, with a view to expanding Bracell's commitment to fostering local development.
In January of this year, Bracell signed an agreement for the acquisition of OL Papéis Ltda. to reinforce its entry into the tissue market and expand its operations in Brazil. The presence of OL's brands is concentrated in the Northeast region, with mills in Bahia, in Feira de Santana and São Gonçalo dos Campos, and in Pernambuco, in the municipality of Pombos. The acquisition has already been approved by CADE.
The company also owns a pulp operation which, in the last four years, represented an investment of more than R$ 15 billion in the country. Considered the largest and most sustainable in the world, the mill has two flexible lines that produce both kraft pulp and dissolving pulp. In addition, its operation is free of fossil fuels.