Homage to watchman representing the team responsible for protecting over 60 thousand hectares of preserved areas in the Northern coast and Northeastern region of Bahia
When the sun light starts shining through the dense forest treetop, Dioenes Soares is already walking among the trees. His walk is lonely, but not sad at all. The sound of birds singing fills up the environment with the contagious energy of nature, with all shades of green, countless shapes of leaves, tree trunks and branches, and countless species of animals that are more perceived by the ears rather than the eyes, since they hide away when the man wearing a black hat, dark blue uniform and boots passes by.
But Dioenes, or John, is actually there to protect them and the forest. A former waiter, he has worked for six years in a luxurious resort in the coast of Bahia, where he received guests such as tv show host Ratinho, singer Ivete Sangalo and soccer player Ronaldinho Gaúcho. However, about 10 years ago, he's decided to dedicate his work to other celebrities: fauna and flora within the private reserve of natural heritage Lontra (Reserva Particular do Patrimônio Natural (RPPN) Lontra), located in the municipalities of Entre Rios and Itanagra. He has been working as heritage watchman who helps protect the reserve against hunting and illegal logging ever since.
"This is my area. I learn new things here everyday."
Learning new things in that environment is actually possible: with 1.377 hectares, RPPN Lontra is the second largest private reserve in the Northern coast of Bahia, only after Subaumirim Gleba A, which has 1.607 hectares – both belonging to Bracell, a soluble cellulose manufacturer which grows eucalyptus trees in 31 municipalities in the Northern coast and Northeastern region of Bahia, and which preserves 60.600 of native vegetation in the region.
The first time John stepped into that forest was with a group of researchers from Universidade Federal de Sergipe. "From that point on, we've found several other tracks", says the father of Sofia, a 4 years-old little girl. The new and old tracks still have the ability to amaze us. "Every time you take one of the tracks, you see a tree you had never seen before. And there are still many more trees to be found out and researched", the watchman says. And he has plenty of reasons to believe so: the reserve has unexplored areas which the team has never accessed "because they are made of closed forest", which makes him even more curious.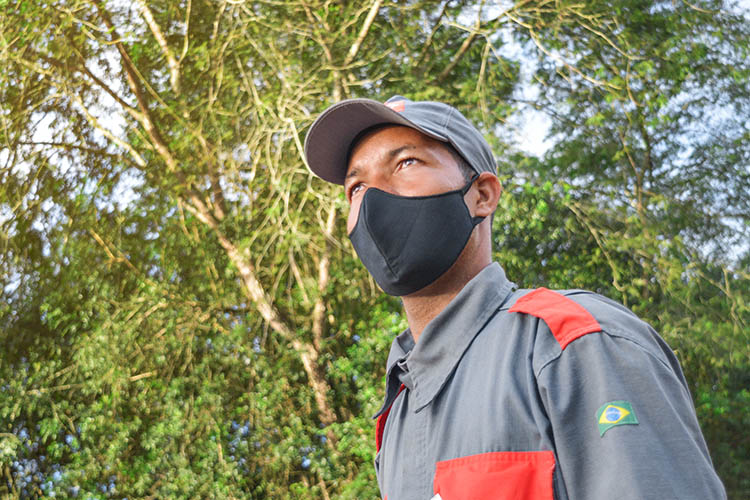 Used to work hard – when he was a kid, he would help his father with farming in the city where he was born, Massarandupió – John walks firmly through the forest, putting branches away with his hands and 'sweeping' the track and its borders with his eyes. The humid heat and long track do not wear him out. And what about the risk of finding a snake, which can easily disguise in the forest? "I'm only afraid of surucucu", he confesses. Found in RPPN Lontra, surucucu pico de jaca (Lachesis muta) is the largest venomous pit viper species in all Americas: it can be up to three meters long and was given this name because its skin has a texture similar to jackfruit peel.
Out of all animals he has ever found in RPPN, an exotic 'pointy' frog is one of the animals that he was greatly intrigued about. "You can find all kinds of animals here", John declares. Monkeys, armadillos, birds of all kinds, such as pyriglena, snakes, insects and also trees such as cariniana, imbiruçú (Pseudobombax grandiflorum), sucupira (Pterodon emarginatus), maria farinha (Stryphnodendron pulcherrimum), pau pombo (Tapirira guianensis Aubl), biriba (Rollinia deliciosa), ingauçu, and ingá (shimbillo). Not to mention all the diversity of edible fruits such as mountain soursop, piassava coconut, palm, Cattley guava, and Malabar chestnut.
"In the forest, you can find anything, and you can eat anything, never to go hungry."
But John is not alone in the task of protecting Bracell's native vegetation area. As an outsourced employee, he is part of the Heritage Security crew of the company, which counts on a Forest Security center to prevent hunting and illegal logging within its property.
Counting on a fixed crew comprised of 140 employees, own and outsourced, and 25 more employees in the summer, a critical fire period in the region, Bracell's Heritage Security team is responsible for protecting the production areas, fighting against environmental crimes, and surveilling forest operations and all 60,600 hectares of native vegetation that belongs to Bracell in Bahia. Thanks to the work of the crew and the technological equipment used in the interventions, they were capable of reducing timber theft by 98.4%, hunting by 95.2%, and criminal forest fire by 72%.