In total, 13 seven cubic meter-dumpsters are daily taken to the Recycling Cooperative of Lençóis Paulista (Cooprelp)
Bracell holds projects in and keeps an open channel of communication with the communities neighboring its operations. Environment preservation and the company's commitment with sustainability guide several initiatives taken by the company. As an example, we mention Project Star's worksite, which, because of the works, generates a large volume of recyclable and unserviceable materials. According to the Quality and Environment Manager of Bracell SP, Christiano Ometto Martini, works of this proportion traditionally build landfills to dispose of waste.
However, at Project Star things are different: Bracell chose not to build a landfill. The sustainable management of the work is possible thanks to partnerships with the city hall of Lençóis Paulista and social entities. As a result, 100% of the waste from the works are correctly disposed of and also help social associations.
In 2020, Bracell increased the disposal of recyclable materials and waste of high aggregate value, especially in Project Star, and Cooprelp was one of the serviced cooperatives. With this support, the cooperatives had a year with good results and accomplishments, despite the pandemic.
Cooprelp receives, on a daily basis, approximately 13 seven cubic meter-dumpsters filled with recyclable materials from the works. These materials are disposed of responsively, helping dozens of families whose income comes from selective collection at the recycling cooperative.
Cooprelp has been working in Lençóis Paulista for 17 years and currently has 35 cooperative members, mostly women aged between 18 and 60 years-old, whose family income comes from this work. They make the selective collection both from donations made by companies and materials collected around the city.
The president of the cooperative, Catarina de Fátima Vaz, says that this initiative could not have started with a better timing. "This partnership came up in the right moment. We were earning no more than two minimum wages. With the materials donated by Bracell, our earnings practically doubled and we are being able to save some money," she said.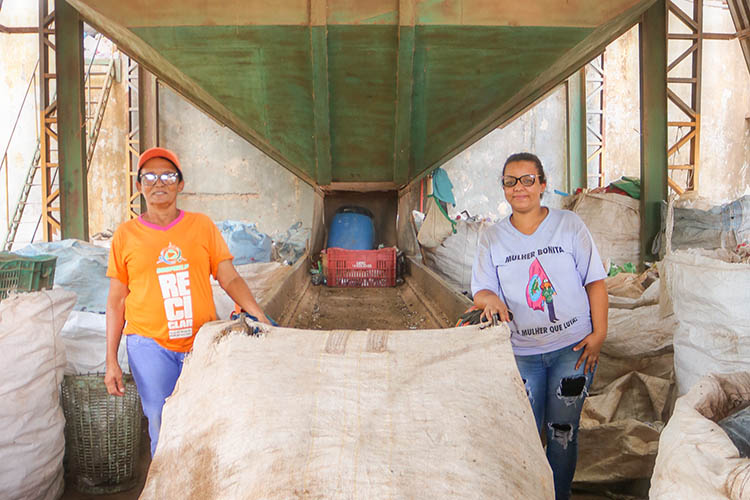 The president's and all cooperative members' idea is to invest a portion of the money in improvements in the cooperative. Catarina understands that Bracell's works will eventually come to an end, and, for this reason, it is important to manage funds efficiently. According to her, "we'll use this money wisely so that the cooperative is sustainable, has the possibility to grow and help even more cooperative members, offering decent salaries for their work."
Cooperative member Miriam Silva Benvindo says that she likes her work at the recycling cooperative. "It's hard work, but it makes a difference for me and my family. We have a very good team and I'm happy to come to work every day. Now I can buy the things I need for my house and help my family. I'm extremely thankful for all the help coming from this company," she says in acknowledgement of Bracell's importance in the entire process.
Bracell is part of RGE group, which manages companies with global manufacturing operations based on natural resources. Lais Drezza, Sustainability Manager at Bracell, says that the initiative is directly aligned with the company's view on sustainability. "The company has an integrated view, and understands how important it is to take actions that protect the environment and promote social inclusion. It's rewarding to contribute with Cooperelp and with other entities that, through recycling, have been helping us to transform people's lives," she said.